A recently opened grocery store in Indiana wants to be more than just another place that sells fresh produce. It wants to give residents a place to gather — and provide formerly incarcerated people a second chance.
Indy Fresh Market, which had its grand opening this month, will address food insecurity on the east side of Indianapolis, in an area that previously didn't have a supermarket for miles. Founder and co-operator Marckus Williams described the area as a food desert where low-income residents struggle to access healthy produce.
"For five or six miles, there was no place to get food anywhere around here unless it was the Family Dollar or gas stations," Williams explains. The area was once home to Kroger, Walmart and Safeway, but they've all closed in the past several years.
"It's hard out here, and with nothing on the bus line, it's pretty much impossible to have healthy options for the residents in the community," he says.
In creating Indy Fresh Market, it was important to Williams for the grocery store to be a second-chance employer — a business that actively hires people with criminal records. He knows how important those second chances are; he was once incarcerated himself.
Indy Fresh Market "was a second chance for me," Williams says. "For some people, this is their first job."
About 20 of Indy Fresh Market's 41 workers are second-chance employees, he says. Working at the grocery store provides them with the opportunity to not only improve their own lives but also leave an impact on a community that desperately needs it.
The full-service, 16,772-square-foot grocery store boasts a wide range of products from national brands to produce from local distributors, he says. According to a study from Indiana University's Public Policy Institute, the grocery store will bring over $11 million to the community.
And the community has embraced the grocery store, Williams says. "It's a new staple in the area now," he says. "You can run into people you haven't seen in a while, make connections, reconnections, hugs, smiles all inside."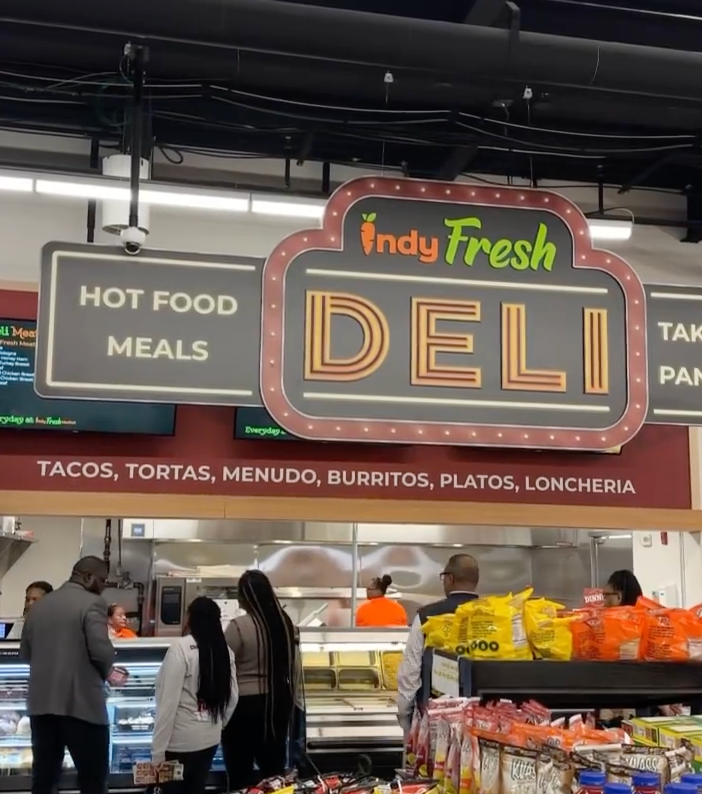 Williams operates the grocery store alongside co-operator Michael McFarland, another native of Indianapolis. The pair are entrepreneurs with experience in this arena, having previously owned a small convenience store together. The grocery store, which has been in development since 2021, was built by the medical device manufacturer Cook Medical, which built a manufacturing location nearby in partnership with Goodwill Commercial Services after realizing how dire the need for food access was in the neighborhood.
With no specific expertise in food retail, Cook Medical worked with McFarland and Williams, who both went through a multiyear training program to prepare for running Indy Fresh Market. The long-term goal is for the duo to own 100% of the business and real estate through a rent-to-own model.
The store was a true community effort, with organizations like IMPACT Central Indiana, United Northeast Community Development Corporation, and neighborhood and city leaders working together to bring Indy Fresh Market to life. The employees, many of them local, have access to Goodwill's services, including housing support, legal aid, mental and physical health care, and soft skills training. For some employees, this is their first time seeing this sort of support.
Cameron Barnett is one of those employees. Hired through the grocery store's second-chance employee program, the Indianapolis native says working at Indy Fresh Market has been a blessing for him as a single father because finding employment has been difficult.
Currently the manager of the grocery store's meat department, Barnett is excited about the opportunity to grow with Indy Fresh Market.
"It's always possible to make a change," says Barnett, who has been working at the grocery store for two months. "Just stay focused on doing what you need to do. God's gonna put some people in places for you. And when you get that opportunity, take it and run with it."
Although Indy Fresh Market just opened, Williams already has his eye on expansion. He says he wants to open up grocery stores in nearby cities like Carmel and Greenwood. "We want to keep the Black community and other communities fed," he says.
"Coming to a neighborhood near you, that's the goal."