President Joe Biden's landmark Inflation Reduction Act is packed with billions of dollars' worth of credits and rebates for purchasing electric cars and making home improvements that save energy.
If you earn enough each year to owe the federal government money in taxes, then the credits that kicked in on Jan. 1 for buying an electric vehicle or setting up charging stations at home will shave thousands of dollars off your bill to the Internal Revenue Service.
But if you're a low- and middle-income homeowner looking for help covering the cost of swapping a fuel-burning furnace for an electric heat pump, you'll have to wait until later next year for a rebate. If your existing appliance breaks in the meantime and you go green with the replacement, there's no guarantee you'll get any money back.
"It's completely unacceptable," Rep. Jared Huffman (D-Calif.) told HuffPost by phone Friday.
On Monday, Huffman and at least 65 other House Democrats signed a letter to Energy Secretary Jennifer Granholm demanding that her agency revise its rulebook to allow states to make all rebates retroactively available once states get programs started.
"If you're one of the wealthy folks that can access tax credits, you're doing just fine," Huffman said. "But if you're a middle-class or working family and you're counting on those more generous rebates to make all of this feasible for you, the Department of Energy is telling you that you have to wait indefinitely: If you were dumb enough to go ahead and buy these things because we've all been telling you to do it, you're out of luck."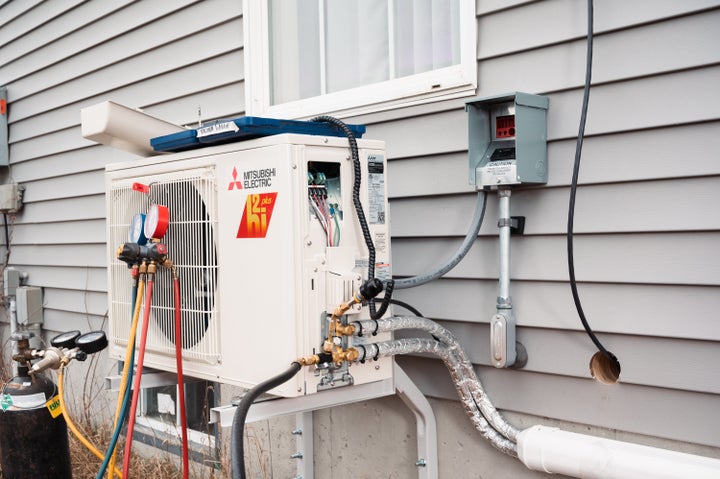 The issue centers on a nearly $9 billion pot of funding in the IRA meant to help homeowners buy electric appliances and upgrade homes to cut back on energy usage. The federal government is set to give the money to states to distribute directly to homeowners. But it took until July 27 — nearly a year after the IRA's passage — for the Department of Energy to finish writing its rulebook for determining who is eligible for rebates.
The guidance said appliances purchased between when the IRA passed and a state launches its rebate program would not be eligible for rebates — even though the law states that eligibility begins upon enactment of the statute.
In a historic law packed with incentives for corporations to buy electric vehicles and build solar-panel factories, the rebates were designed as one of the few consumer-facing programs and among the biggest to primarily benefit anyone who isn't rich. That most homeowners won't get a taste of those rebates until the fall of 2024 at the earliest will only make it harder for Democrats to sell voters on the legislation before they head to the polls next November.
The problem first came to light in Huffman's home state of California, which arguably has the country's most advanced existing rebate program for making energy-efficiency upgrades. In an Aug. 27 column, The San Francisco Chronicle's Joe Garofoli detailed the woes of various homeowners who considered replacing fuel-burning furnaces with electric heat pumps until learning that the new federal rebates to cover as much as $8,000 of the $20,000 it could cost to buy and install the appliance were not guaranteed.
"This is California," a Nevada City resident named Ken Bradford, who was waiting to replace his propane-fueled furnace, told the columnist. "You'd think that California would be ahead of the curve on this. But not so."
The bottleneck, however, is on the federal level. California could not begin applying for its rebates program to distribute the IRA money until the federal Energy Department released its guidelines — which did not come out until July 27.
"The Department of Energy is telling you that you have to wait indefinitely: If you were dumb enough to go ahead and buy these things because we've all been telling you to do it, you're out of luck."
The state is now working on designing its program. But the California Energy Commission said it can't guarantee that appliances purchased between now and the launch of its program sometime next year will be covered unless the Energy Department revises its guidance.
Despite months of back-and-forth with the Energy Department, Huffman said the agency has so far refused to change the rulebook.
An Energy Department spokesperson did not respond to a request for comment.
Huffman blamed understaffing for the delays in writing the rules in the first place and admitted that the highly technical nature of the rebate program made implementation difficult. He said he suspects the added complication of applying rebates retroactively is behind the holdup.
"It's easier for bureaucrats to stand up a program that doesn't apply retroactively; it's easier to just make it point-of-sale, prospective only," Huffman said. "It may take them another year and a half to do it, but it's just easier for them."
The IRA "clearly authorizes retroactive rebates, stating that Home Efficiency Rebates 'shall' be provided for 'retrofits begun on or after the date of enactment' and saying nothing to the contrary regarding the Home Electrification and Appliance Rebate," the letter reads.
Until the administration begins distributing advanced administrative funds to help states hire for and develop their programs, the understaffing problems threaten to trickle down, further delaying payouts to homeowners, the letter said.
"Because of delays in finalizing program guidance and distributing administrative funds, we are informed that states may be unable to offer rebates until the Fall of 2024 or later, which would be more than two years after IRA enactment," the letter reads. "We urge DOE to prioritize getting this critical program on a faster, more effective track by working with states, territories, and tribes to ensure there are no further delays or obstacles going forward."
Popular in the Community